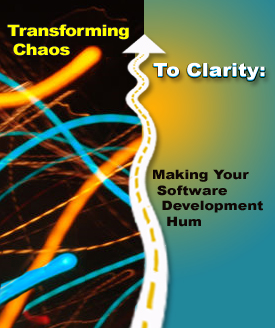 Professional Bio
Ron Lichty has been transforming chaos to clarity and making software development "hum" for most of his 25 years managing software development and product organizations. 
To share the insights he's gained into solving the challenges of development, Ron co-authored Managing the Unmanageable: Rules, Tools, and Insights for Managing Software People and Teams - published by Addison Wesley - which reviewers compare to Addison Wesley's classics The Mythical Man-Month and Peopleware. In his continued search for effective best practices, Ron co-authors the annual Study of Product Team Performance.
Transforming Chaos to Clarity
Ron has repeatedly been brought in as a "VPE of Fix-It" to solve problems like painfully slow product development, past-due estimates with no delivery in sight, productivity bridled by uncertainty, teams unable to break out of research and move on to development and delivery,  scalability stymied by sluggish data integration, process bogging teams down not propelling them forward, an "order-taking mentality" from teams that should be proactive and collaborative, and challenges arising from geographically dispersed teams.
Recruited into companies ranging from startups to the Fortune 100, all of them struggling to deliver software solutions, he has repeatedly demonstrated that small tweaks can result in dramatic impacts to throughput, quality and customer focus.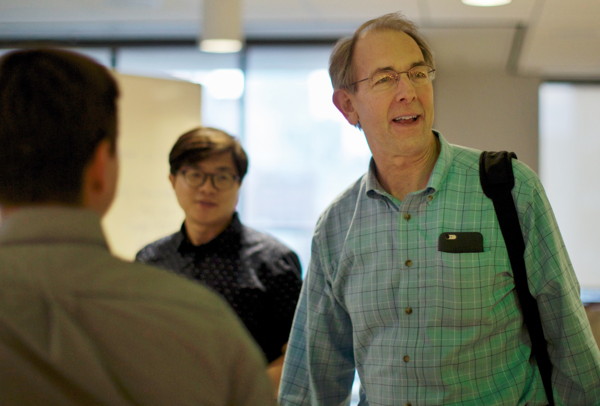 Interim VP Engineering
Ron has stepped into the breach, leading technology for teams and organizations of all sizes, untangling the knots in software development, smoothing product delivery, instilling best practices, and collaborating to recruit and hire the "right" managers to lead newly energized product and development organizations long-term.
Directing Development
Ron directed development of the Macintosh desktop at Apple Computer, screen savers at Berkeley Systems, online animated virtual worlds at Fujitsu, and a breadth of award-winning investor applications at Charles Schwab. He has led products and development for Stanford's HighWire Press, Check Point's ZoneAlarm line, Razorfish's California offices and clients, and startups Socialtext, mFactory and Forensic Logic.  Managing the group developing Apple's user experience early in his career made him particularly sensitive to delivering high quality products with exceptional customer experience.
Developing Roadmaps
Ron has crafted both product and technology roadmaps, most long overdue. He understands the challenges of and barriers to both strategic and tactical planning - and how to overcome them and achieve new progress.
Leading Change
Leading software technology and culture change at Charles Schwab, he was charged with transforming Schwab's programming approach to a single language and platform. It was an objective he accomplished, company-wide, in just three years.
"Just Enough Process"
Ron has been integrally involved in designing software development life cycle processes for 20 years, starting at Apple. Over a decade ago at Schwab, he led an organization focused on ensuring the success of teams using methods ranging from waterfall to agile, from the desktop to distributed systems to the mainframe.
Training Teams in Agile
Ron was long ago certified as a Scrum Master. Over the past decade he has trained teams in scrum, transitioned teams from waterfall and iterative methodologies to agile, and coached teams already using agile to make their software development "hum."
Mentoring, Coaching and Partnering
Ron is attuned to the challenges both product and development managers face. Managing a product marketing group at Apple early in his career gave him a first-hand view of the unique contributions product managers make. As a development VP since then, he highly values best practices and both the teams he has built and the partnerships he has formed with other product and business leaders.
Ron is a mentor, a coach and a team-builder. Originally a programmer, where he earned several patents and wrote two popular programming books, he was hired into his first management role by Apple Computer, which nurtured his managerial growth in both development and product management roles.
Community
Ron has long been an active developer of industry, technology, and corporate communities of practice. He co-chairs the Silicon Valley Engineering Leadership Community, and previously co-chaired SVForum's Emerging Technology and Software Architecture SIGs and eBig's Software Development Best Practices SIG, as well as served on the board of SVForum, Silicon Valley's largest and oldest developer organization. He has been an active member of the Bay Area chapter of the Computer - Human Interface SIG of ACM (BayCHI) almost from its beginning, and similarly, more recently, the San Francisco chapter of the Agile Leadership Network (BayALN).
Ron's developer conference and professional group talks and webinars include managing software people and teams; transforming software development from chaos to clarity; facing down the challenges of implementing agile and scrum; the critical roles managers play whose teams have gone agile; what it takes for product managers to bond with their teams; and the importance of collaboration, teamwork and community in software development.
In March 2013, Ron completed a ninth cross-country ski marathon with Team in Training, this one 40 kilometers in Anchorage, Alaska. His nine TNT teams raised 1 1/2 million dollars and he personally raised, with the generous help of friends and colleagues, over $100,000 to cure leukemia, lymphoma and myeloma and support cancer patients and their families.